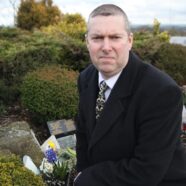 Until recently, funerals have tended to take place in a very traditional way.
Many people are now making new choices such as using colourfully printed coffins or holding services in woodland sites.
But what about the person conducting the funeral service itself?
Traditionally the service has been conducted by a church minister in the manner prescribed by their particular faith. More recently, Humanist ministers have offered completely non-religious services conducted according to Humanist principles.
Now there is a third option – The Civil Celebrant.
When a loved one has died I will visit their family to arrange the funeral service itself. I will liaise with the funeral director who will be making all other arrangements for the family.
As a professionally trained celebrant I will help to create a truly personal funeral ceremony that is exactly as the family want it to be.
Not everyone wants the same type of funeral and I will fully discuss the ceremony including readings, music and other tributes. Civil Ceremonies can be either completely non-religious or can include hymns and prayers.
The family can check the ceremony content beforehand and I will offer a presentation copy of the text to keep afterwards.
The ceremony will capture the very essence of the loved one and tell the story of the life that has been lived.
I hold a Diploma in Funeral Celebrancy and am a member of The Institute of Civil Funerals and can be contacted on 01706 624 400.